PADI Night Diving Specialist
Diving at night is a challenge. The dive sites you were familiar with in the day change dramatically. Fish and invertebrates that were hiding in the light come out to feed or hunt. It is a new adventure to explore these areas at night.
Even your local dive site changes with the onset of night since a large proportion of the marine life you see in the day time is more active at night. However, scuba diving at night does require some specialist skills, and the PADI Night Diving Speciality aims to teach you these whilst introducing you to the wonderful world of Night Diving!
During the Night Diving Speciality you'll be instructed in night dive planning and organization, certain diving procedures, and techniques and how to overcome potential problems. You'll also learn how to adapt your buoyancy control, navigate and communicate at night. Since many of the plants and animals you'll see are different, you'll also get an overview to nocturnal marine life.
Prerequisites: To take the PADI Digital Underwater Photographer course, you must be a PADI certified diver (or qualifying certification from another training organization).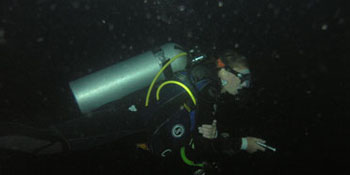 We charge $225 for the PADI Night Diving Specialty course.
Included in this price is the PADI 5 star gold certification card, rental of all the equipment you need for the course, one night accomodation in our dormroom at Koh Rong Samleum island, breakfast and lunch as well as the transfer to Koh Rong Samleum island and an open return ticket to get back to Sihanoukville.