PADI Equipment Specialist
The PADI Equipment Specialist program helps you familiarize yourself with the operation and maintenance of your own personal Scuba equipment as well as review new or unfamiliar dive equipment. The program is not designed to be an extensive equipment-repair program , however, it does provide you with the basic knowledge to identify problems and perform basic repairs that are necessary.
Divers need to be able to spot equipment problems before they happen. This course enables a diver to conduct more effective serviceability checks on their own gear and pre empt problems, as well as recognize the causes of equipment failure during a dive that will prevent them from panicking underwater and dealing with the problem in a more effective manner.
Since divers spend so much money on scuba diving equipment, its only prudent that one learns how to properly take care of it and repair minor problems without having to incur additional repair costs.
Prerequisites: To qualify for the Equipment Specialist course, an individual must be certified as a PADI Scuba Diver, Junior Scuba Diver, Open Water Diver, Junior Open Water Diver or have qualifying certifications from another training organization and be 10 years of age or older.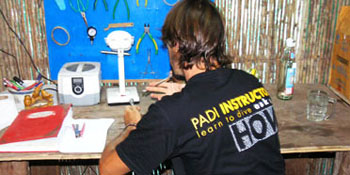 We charge $145 for the PADI Equipment Specialist course.
Included in this price is the PADI 5 star gold certification card.