Over Night Trip to Koh Rong Samleum Island
The overnight trips take you to the island of Koh Rong Samleum where we have a brand new dive center just in the center of our private beach from which there are beautiful views across the bay. From here with the right conditions you can spend the evenings watching the sunset at one of Cambodias most remote island locations, an amazing sight. Remember to take your camera as this is well worth a few pictures, especially during the full moon period. The Dive Shop offers a dormitory for our guests traveling of a small budget upstairs of our dive center. It is clean, with mosquito nets on all the bunks and is the place to meet divers from all around the world or just hang out at the campfire. For our guests wishing a bit more privacy, we can offer beautiful bungalows in the Robinson Bungalows, our resort at the further end of the beach.
After a day of diving it is a beautiful, tranquil setting with the option of having a few drinks in our bar or just relaxing on the balcony after a hard day of diving watching the sun slowly dive into the Gulf of Thailand.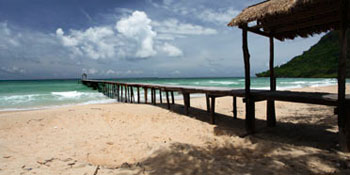 Staying over night at the island gives you the opportunity to do night dives as well as early morning dives.
Click here to book a over night trip to Koh Rong Samleum Island!