DSAT Tec 50
The Tec 50 course is the last in the Tec Deep program, it will qualify you to dive to 165 feet / 50 meters decompression dives using 2 stage cylinders. The Tec 50 is the prerequisite to start the Tec Trimix courses.
The PADI Tec 50 course consists of two main parts: Knowledge Development and 4 Open Water Dives.
Prerequisites: To qualify for the Tec 50 course, you must be certified as a PADI Advanced Open Water Diver, a PADI Enriched Air Diver with at least 10 dives using enriched air deeper than 18 meters/60 feet, be certified as a PADI Deep Diver or have proof of at least 10 dives to 30 meters/100 feet or deeper, have completed the Tec 45 course or equivalen and be at least 18 years old and have a minimum of 100 logged dives.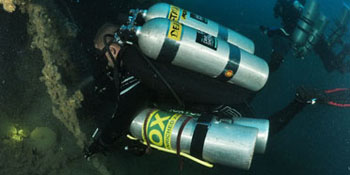 We charge $595 for the DSAT Tec 50 course.
Included in this price is the PADI/DSAT certification card, course materials, technical equipment rental as well as all gases needed for the course.