DSAT Tec 45
The Tec 45 is the second part of the Tec Deep diver program, in this course you will start pushing past recreational depth limits and learn to use up to 100% oxygen for decompression dives. You will build on and master the skills from the Tec 40 and prepare for the Tec 50 course.
The PADI Tec 45 course consists of two main parts: Knowledge Development and 4 Open Water Dives.
Prerequisites: To qualify for the Tec 45 course, you must be certified as a PADI Advanced Open Water Diver, a PADI Enriched Air Diver with at least 10 dives using enriched air deeper than 18 meters/60 feet, be certified as a PADI Deep Diver or have proof of at least 10 dives to 30 meters/100 feet or deeper, have completed the Tec 40 course or equivalen and be at least 18 years old and have a minimum of 50 logged dives.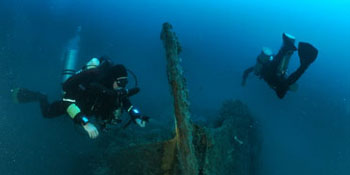 We charge $595 for the DSAT Tec 45 course.
Included in this price is the PADI/DSAT certification card, course materials, technical equipment rental as well as all gases needed for the course.