DSAT Tec 40
During the course you will gain experience and begin building the knowledge and skills you need to continue your tec diver training. You will qualify to make limited decompression dives to 40 meters/130 feet and use up to 50% EANx as part of those decompression dives.
As a tec 40 diver you will begin adding technical equipment to your recreational dive gear, or you can jump right in and begin using a full technical rig.
The Tec 40 course can be completed in just 5 days. The first day of the course will be taught in our classroom in Sihanoukville, on the second day we would do shallow water training and on the additional days join us to complete at least 4 training dives.
Prerequisites: To qualify for the Tec 40 course, you must be certified as a PADI Advanced Open Water Diver, a PADI Enriched Air Diver with at least 10 dives using enriched air deeper than 18 meters/60 feet, be certified as a PADI Deep Diver or have proof of at least 10 dives to 30 meters/100 feet or deeper and be at least 18 years old and have a minimum of 30 logged dives.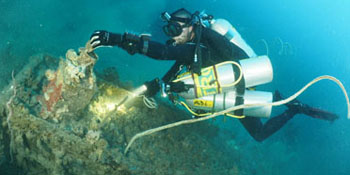 We charge $595 for the DSAT Tec 40 course.
Included in this price is the PADI/DSAT certification card, course materials, technical equipment rental as well as all gases needed for the course.