PADI开放水域潜水员
成为PADI开放水域潜水员的决定可 能会改变你的人生!
课程的第一天你会在西港观看教学录像,或者已经在岛上跟教练完成教学内容。
第二天我们会去高龙沙冷岛在平静的海湾完成潜水技能的培训。 之后我们会带你去开放水域潜水。
在第三天跟第四天你会去柬埔寨最美的珊瑚礁潜水,体验你从未有过的经历。你会爱上海马,拍鱼,螃蟹,海兔以及大量美丽的珊 瑚鱼类。回到西港之后你会被认证为padi开放水域潜水员。
前提要求: To take the PADI Open Water Diver course, you must be at least 15 years old (or 10 years old for Junior Scuba Diver certification).
Included in this price is the PADI Open Water Diver manual, PADI 5 star gold certification card, rental of all the equipment you need for the course, one night accomodation in our dormroom at Koh Rong Samleum island, breakfast and lunch on both diving days as well as the transfer to Koh Rong Samleum island and an open return ticket to get back to Sihanoukville.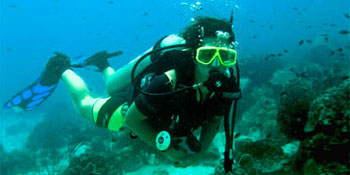 价格:$420美金
Click here to book the PADI Open Water Diver course!
You can also do the academics for this course online with PADI elearning which saves you one day in the classroom.

We charge $335 for the practical training after completing the elearning. On top of this PADI ask you for a fee to access the elearning section.